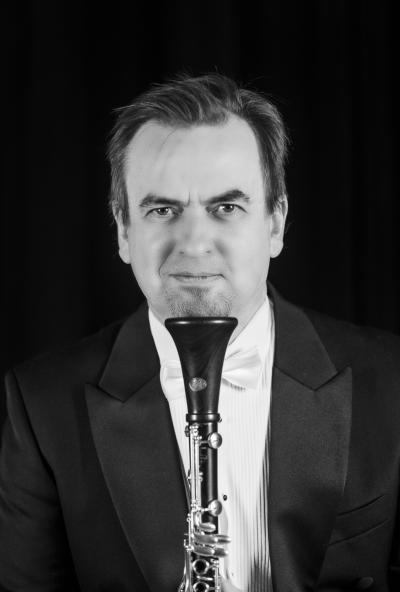 Bogusław Jakubowski
– is a clarinet player of the Szczecin Philharmonic Orchestra, although he was close to becoming a drummer. The artist recalls his first steps in the world of music with the following words:
Music has always accompanied me, but the direct contact took place when I was about 11 years old, then my mother enrolled me in a music school. My first instrument was drums; for a young boy, it is a very attractive instrument. However, I am left-handed, so my teacher claimed I had no percussion future, which was not true. Eventually, it ended up with the clarinet
.
Bogusław Jakubowski is a graduate of the clarinet class of professor Zdzisław Nowak at the Ignacy Jan Paderewski Academy of Music in Poznań. He developed his skills at master classes conducted, among others, by by: E. Bruner (Germany), V. Vitek (Czech Republic), M. Stachura. He also performs frequently as a soloist and chamber musician. In 1999, together with B. Szczerkowski and T. Jocz, he won the Grand Prix of the Young Chamber Musicians Competition in Kłodzko. As a soloist he has performed, among others in Szczecin, Berlin, Hamburg, Moscow, Gdańsk, Sopot, Poznań, Warsaw, Greifswald, Gartz, Kamień Pomorski, Kołobrzeg, Duszniki-Zdrój. He took part in many premieres of works by Polish composers: Janusz Stalmierski, Marek Jasiński, Zbigniew Kozub, Artur Cieślak, Piotr Klimek and Waldemar Sutryk. For his achievements, in 2004 he received the Silver Cross of Merit from the President of the Republic of Poland. In 2007 he recorded the album "Forgotten and New Pieces for clarinet by Szczecin composers of the 19th, 20th and 21st centuries (Zapomniane i nowe utwory na klarnet kompozytorów szczecińskich XIX, XX i XXI wieku). A year later, he wrote a book with the same title, which also became the subject of his habilitation thesis. The next album is Niezapominajki, a poetry and music performance to the poems of Anna Frajlich with music by Waldemar Sutryk (solo clarinet).
Bogusław Jakubowski is also a member of the Szczecin Philharmonic brass quintet – FeelHarmony Quintet, with which he recorded an album of classical and contemporary music in 2014. He is an excellent promoter of Polish music. He also fulfils himself as a clarinet teacher at the Academy of Art in Szczecin, and his students achieve international success.