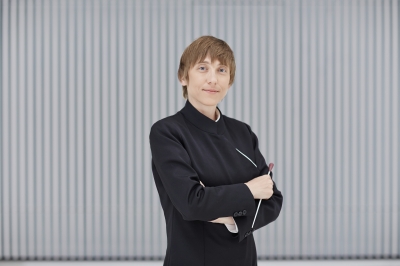 Ewa Strusińska, born 1976, accomplished symphony and opera conductor. Born in Stalowa Wola, and since 2008 living in the United Kingdom and now also in Szczecin. Since 2013 she has been the Principal Conductor of the Szczecin Philharmonic Orchestra and the Musical Director of the Szczecin Philharmonic.
She graduated from Fryderyk Chopin University of Music in Warsaw and conducted her diploma concert with the Orchestra of the National Philharmonic in Warsaw. In the same year she became Assistant Conductor at the Częstochowa Philharmonic Orchestra and soon after that, Junior Fellow in Conducting at Royal Northern College of Music in Manchester, an institution she has been in constant cooperation with since 2006. She is a finalist and laureate at the prestigious Gustav Mahler International Conducting Competition in Bamberg. In 2008 she held, as the first ever woman in the history of Great Britain, the position of Assistant Conductor with the Hallé Orchestra in Manchester, the oldest professional symphony orchestra in Great Britain. Ewa Strusińska's success has been reported in The Times, The Guardian, The Independent, and also by multiple professional magazines, such as BBC Music Magazine and Gramophone.
Internationally, she has worked with a range of leading orchestras including the Northern Sinfonia, BBC National Orchestra of Wales, The Hallé Orchestra, Bamberger Symphoniker, Hofer Symphoniker, Sinfonietta Baden, Uppsala Chamber Orchestra, Johannesburg Philharmonic Orchestra, Gävle Symfoniorkester, Norrlands Opera Symphony Orchestra, and Slovak Sinfonietta. In Poland she has worked with the Warsaw Philharmonic Orchestra, Warsaw National Opera Philharmonic Orchestra, National Polish Radio Orchestra, Radom Chamber Orchestra, Sinfonia Iuventus, Beethoven Academy Orchestra and philharmonic orchestras in Rzeszów, Koszalin, Opole, Olsztyn and Szczecin.
Ewa Strusińska participated in many conducting courses run by Antoni Wit, Gabriel Chmura, Jerzy Salwarowski, Bruno Weil, Mark Stringer, Kurt Masur, etc. In 2008 she was chosen by the London Symphony Orchestra to be one of three participants in a masterclass by Valery Gergiev. In 2010 she collaborated with the Royal Ballet at Covent Garden.
Ewa Strusińska also has an extensive operatic repertoire which she conducted at the Buxton Opera Festival, in the Royal Northern College of Music and in Teatr Wielki in Warsaw, where she worked as an Assistant Conductor at the Polish National Opera and Polish National Ballet.
During the inauguration ceremony of the artistic season in the new building of the Szczecin Philharmonic, she conducted Marek Jasiński's symphony "In Principio".