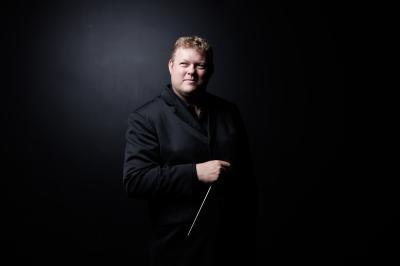 Artistic director and chief conductor of the Szczecin Philharmonic Symphony Orchestra, conductor of the Swiss Argovia Philharmonic and music director of the Canadian Calgary Philharmonic Orchestra.
An energetic personality, versatility, and an extensive repertoire – classical, romantic, operatic, contemporary – place Rune Bergmann among the most talented Scandinavian conductors of our times.
In recent concert seasons, Rune Bergmann has collaborated with renowned symphony and opera orchestras in North America (including Baltimore, Detroit, Edmonton, Houston, New Jersey, the Pacific Symphony Orchestra, and the New Mexico Philharmonic), and in Europe (Bergen Philharmonic, Oslo Philharmonic, Münchner Symphoniker, Orchestra della Svizzera Italiana, Orquesta Sinfonica Portuguesa, Orquesta de Valencia, Staatskapelle Halle among others). He also conducted the performances of The Barber of Seville and La Traviata at the Norwegian National Opera, and made his debut at the American Yale Opera in the production of Britten's Midsummer Night's Dream, staged by Claudia Solti.
In the 2022/23 season, Rune Bergmann will once again stand on the podium as guest conductor of the symphony orchestras from Baltimore, North Carolina, and Malaga. He will also perform with the recently established ADDA Simfonica in Spain.
Bergmann's first recording with the Szczecin Philharmonic Symphony Orchestra was released in 2018. The album includes Mieczysław Karłowicz's famous Symphony Rebirth, a piece that has since become one of the main points of Bergmann's repertoire.
Earlier in his career, Rune Bergmann was the leader of the orchestra and deputy music director of the Augsburg Theater, and the chief guest conductor of the Kaunas Symphony Orchestra. Bergmann was also the initiator and artistic director of the innovative Norwegian festival – Fjord Cadenza, since its first edition in 2010.
A talented multi-instrumentalist himself, Bergmann plays the trumpet, piano, viola and violin, and is an ardent jazz fan.
photo by Bartek Barczyk