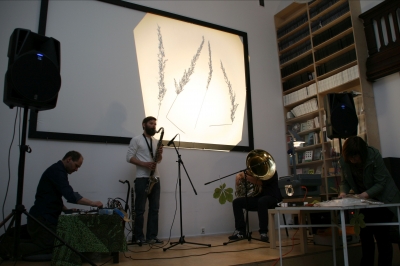 Marcin Dymiter to jedna z najważniejszych postaci polskiej muzyki alternatywnej, eksperymentalnej i improwizowanej. Producent, wykładowca, autor warsztatów, twórca instalacji dźwiękowych, słuchowisk radiowych, muzyki filmowej i teatralnej. Nagrywa i wydaje płyty pod własnym nazwiskiem i jako Emiter. W ciągu ostatniego ćwierćwiecza współtworzył takie projekty, jak: Ewa Braun, Mapa, Mordy, Emiter.Arszyn, Sonda i Niski Szum. Na koncie ma również współpracę m.in. z Jerzym Mazzollem, Mikołajem Trzaską i Marcinem Świetlickim.
Najnowszym przedsięwzięciem Dymitera jest Flora Quartet – trudny do zaszufladkowania czteroosobowy organizm, który łączy elektronikę, nagrania terenowe, muzykę akustyczną i diaskopowe wizualizacje generowane za pomocą analogowego rzutnika. Poza Marcinem, odpowiedzialnym za brzmienia elektroniczne i obiekty dźwiękowe, kwartet tworzą: Piotr Janiec (tuba) i Tomek Stawiecki (klarnet) z Sejneńskiej Orkiestry Klezmerskiej i Sztetl, oraz Małgorzata Wawro (wizualizacje diaskopowe) z zespołu Jak Zwał Tak Zwał.
Po serii znakomicie przyjętych koncertów, jesienią 2015 roku nakładem wytwórni Gusstaff Records ukazała się "Muzikka Organikka" – pierwsza płyta formacji, o której Bartek Chaciński pisał na swoim blogu: "Ten elektroakustyczny kwartet jest czymś, co można by w Polsce pokazać na jednej imprezie z Jacaszkiem i Kwartludium. (…) Tych bardzo powoli rozwijających się utworów warto słuchać głośno, żeby wyłapać wszystkie niuanse – przy pozornym bezruchu w skali makro, wiele dzieje się tu w sferze mikrodźwięków".
Jak twierdzą sami muzycy, punktem wyjścia jest dla nich improwizacja, poczucie humoru, bajkowe narracje, obserwacja form i kształtów, kolorów i dźwięków. To właśnie na styku tych elementów wyrasta twórczość Flora Quartet. Istotny jest również kontekst otoczenia, w jakim odbywają się koncerty zespołu – eksploracja zastanej przestrzeni, jej dźwiękowa interpretacja i "umuzycznienie" architektury stanowią nieodłączną część występów. Trudno więc wyobrazić sobie lepsze miejsce na koncert grupy, niż imponujący gmach Filharmonii im. Mieczysława Karłowicza w Szczecinie.