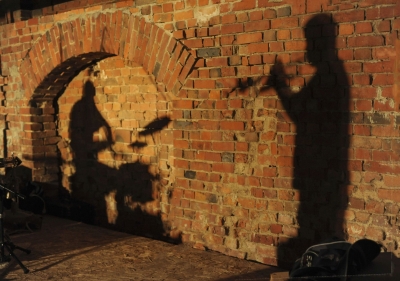 Co powstanie z połączenia przenikliwej trąbki i baterii instrumentów perkusyjnych? Odpowiedzi na to pytanie udzielają dokonania projektu Jachna/Buhl, tworzonego przez dwóch znamienitych muzyków kojarzonych z polską sceną alternatywną. Nasycona freejazzowym duchem, melancholijna twórczość duetu wykracza poza ramy jazzu, zahaczając także o improwizację i eksperyment. "Wpływy muzyczne to oczywiście wszystko, co można dookoła dzisiaj usłyszeć, a można usłyszeć wiele" – deklarują członkowie duetu, który na koncie ma już cztery albumy: "Panjabu" (2009), "Niedokończone książki" (2011), "Tapes" (2013) i "Atropina" (2014).
Jacek Buhl – karierę rozpoczynał w legendarnym nowofalowym składzie Variete (to on bębnił we flagowym utworze grupy, "I znowu ktoś przestawił kamienie"), był też perkusistą awangardowej bydgoskiej formacji Henryk Brodaty, o której lider Tomasz Gwinciński mówił później, że była "zespołem wyklętym, czarną dziurą, materią anihilującą, stojącą w opozycji do wszystkiego, co jest". Współpracę z Gwincińskim kontynuował w Trytonach, z którą nagrał pierwszy w historii yassowy album, "Tańce bydgoskie" (1992). Buhl jest też związany z grupami 4 Syfon, The Cyclist, Glabulator, Trzy Tony, Spejs i Alameda 5.
Wojciech Jachna – zanim został uznanym trębaczem, wyżywał się na gitarze w punkowych załogach PoGoleniu, La Verte i Hyde. Gry na trąbce uczył się pod okiem Andrzeja Przybielskiego, Janusza Zdunka i Piotra Wojtasika. Na początku XXI wieku związał się z reggae'owym zespołem Dubska. Zanim opuścił jego szeregi w 2006 r., nagrał z nim cztery płyty. Przez dwa lata (2004-2006) grał i koncertował z trójmiejską grupą Mordy, z którą zarejestrował album "Anthrology". Dziś skupia się przede wszystkim na grze w dwóch cenionych formacjach będących spadkobiercami free jazzu i yassu – Sing Sing Penelope i Contemporary Noise Quintet/Sextet.