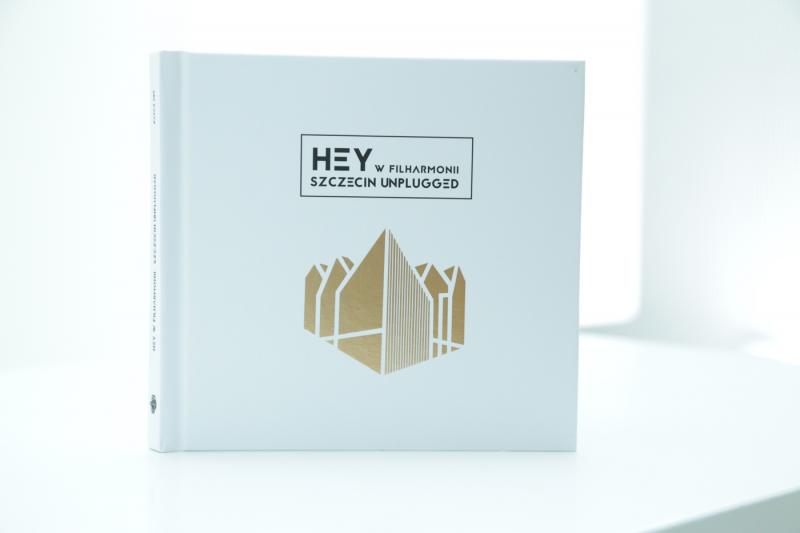 "HEY w Filharmonii w Szczecinie" (In English "HEY at the Philharmonic in Szczecin") – is a recording of a concert with a repertoire consisting of well-known pieces in completely new arrangements, set in a new context and performed at a new place – in the breathtaking Symphony Hall of the Philharmonic in Szczecin, with its impressive acoustics, and awarded a prestigious architectural prize – the Mies van der Rohe Award. For the purpose of this concert, the band's number was extended by a selected group of musicians from the Szczecin Philharmonic Orchestra. The noble sound of orchestral instruments played by the Szczecin Philharmonic musicians as well as artists accompanying HEY at concerts, perfectly developed the musical layer of the band's pieces. HEY, immersed in the acoustic element, discover completely new musical worlds. Most of the songs collected in "HEY w Filharmonii w Szczecinie" are unplugged versions you have not yet heard, not in this arrangement.
It is also, in a sense, a return home, because the concert – whose recording we are presenting you with – took place in the city from which HEY sailed a quarter of a century ago, into the wide and tumultuous waters of a great career.
In 2014, years after the album HEY MTV Unplugged which gained the status of triple platinum, and was awarded in 2008 with three Fryderyk awards, the band once again sets off on an acoustic tour this time with a completely new repertoire. The concerts turned out to be a huge success. When a concert in Szczecin became possible, there was no doubt that it would be exceptional and unique, tailored for this place.
You are holding in your hands our little dream that shows that we love Szczecin, our Philharmonic, the band Hey, and bold ideas that do not always fit into the traditional definition of the Philharmonic. I hope that these beautiful sounds and emotions captured in this album will be for you and for us inspiration for creating ideas and visiting places where dreams come true.
Dorota Serwa, Managing Director of the Philharmonic in Szczecin

Tracklist:
1. Intro
2. Chiński Urzędnik Państwowy
3. Woda
4. Lot pszczoły nad tymiankiem
5. Umieraj stąd!
6. Do Rycerzy, do Szlachty, do Mieszczan
7. Kto tam? Kto jest w środku?
8. Cudzoziemka w raju kobiet
9. Wilk vs. Kot
10. r.e.r.e
11. Boję się o nas
12. Stygnę
13. Wczesna jesień
14. Mimo wszystko
15. A ty?
The project was co-financed from the budget of the City of Szczecin.
The project was realised with support from EcoGenerator, sponsor of the ENERGICO series.