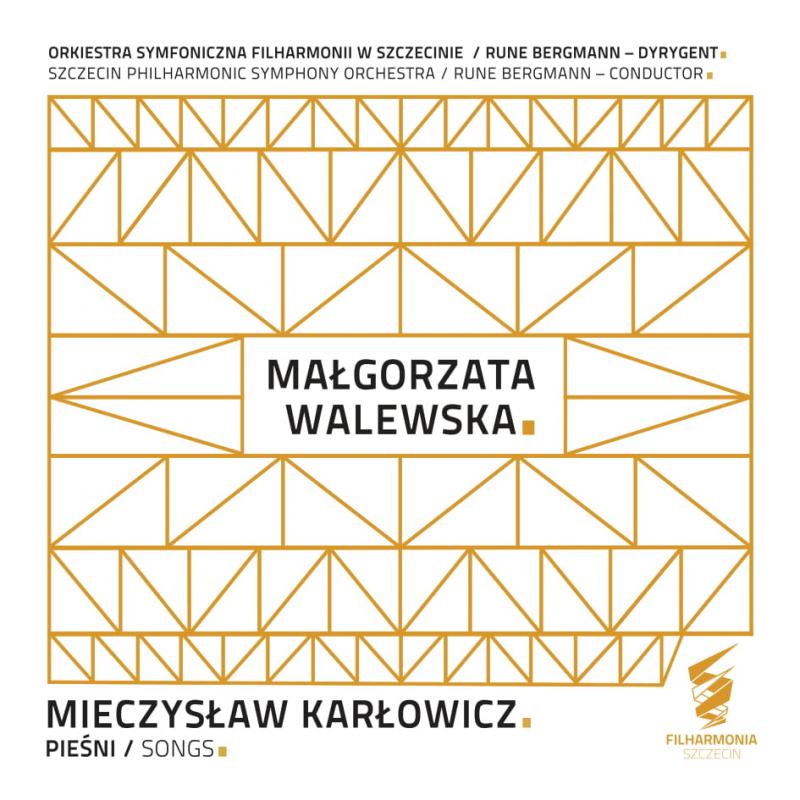 30 października światło dzienne ujrzała czwarta już płyta, "Mieczysław Karłowicz - Pieśni" – tym razem prezentująca pieśni wykonane przez szczecińskich filharmoników i Małgorzatę Walewską – której można posłuchać poprzez platformy streamingowe.
Na płycie Orkiestrę Symfoniczną Filharmonii w Szczecinie poprowadził jeden z najbardziej utalentowanych skandynawskich dyrygentów –
Rune Bergmann
. Ten wszechstronny i pełen energii dyrygent jest zarazem Dyrektorem Artystycznym szczecińskich filharmoników i to już trzeci album, który nagrał razem z zespołem.
Orkiestrze na płycie towarzyszy światowej sławy solistka, pierwsza dama polskiej sceny operowej –
Małgorzata Walewska
. Interpretacja, obdarzonej przejmującym mezzosopranem dramatycznym, artystki tchnęła w utwory Karłowicza świeżość i lekkość, jednocześnie zachowując charakterystyczny młodopolski nastrój melancholii.
Za orkiestracje siedemnastu z dwudziestu dwóch zachowanych do dziś utworów odpowiada
Piotr Moss
. Kompozytor doskonale oddał ducha epoki oraz styl kompozytorski Karłowicza, specjalnie na potrzeby płyty aranżując, pisane pierwotnie na głos i fortepian, dzieła.
Mieczysław Karłowicz
, kompozytor przełomu XIX i XX wieku, zapisał się w historii muzyki głównie jako twórca dzieł orkiestrowych, zwłaszcza poematów symfonicznych. W wieku około 20 lat, trochę na pograniczu twórczości "szkolnej", młody artysta pisał też pieśni. W ciągu roku (od końca 1895 do końca 1896) powstały niemal wszystkie z 29 pieśni – do dziś zachowały się 22 z nich. W tych bardzo osobistych wypowiedziach artystycznych badacze twórczości Karłowicza doszukują się zapowiedzi późniejszego stylu kompozytora i charakterystycznej tęsknoty, która przenika jego utwory.
Najchętniej wybieranym przez Karłowicza poetą był Kazimierz Przerwa-Tetmajer i pieśni to do jego tekstów usłyszymy w większości. W całym zbiorze pojawiają się też utwory do słów m.in. Marii Konopnickiej, Adama Asnyka, Juliusza Słowackiego czy Zygmunta Krasińskiego.