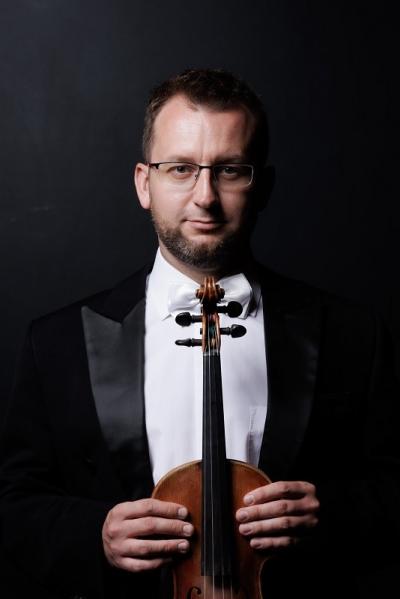 Paweł Maślanka
– Since 2010, he has been a violinist, soloist and concertmaster of the Szczecin Philharmonic Symphony Orchestra. He started learning to play the violin at the age of 6. He is a graduate of the Fryderyk Chopin University of Music in Warsaw in the class of professor Krzysztof Podejka and the laureate of many national violin competitions in Warsaw, Zielona Góra, Poznań, Katowice, Łódź and Gdańsk.
In 2008, he began working with the Sinfonia Varsovia orchestra. With this excellent orchestra, he has recorded many albums with both baroque and contemporary music. In addition, he has given concerts not only in Poland but also in many European countries (France, Sweden, Czech Republic, Portugal, Spain, Switzerland, Germany) and Japan (Tokyo, Kanazawa). He played alongside artists such as N. Kennedy, I. Pogorelić, M. Argerich, A.-S. Mutter and M. Vengerov.
Paweł Maślanka also fulfils himself as a pedagogue. He holds a PhD in Arts and teaches young violinists at the F. Nowowiejski and the Academy of Art in Szczecin.
In 2017, he initiated the creation of an extraordinary chamber orchestra –
West Side Sinfonietta
made up of outstandingly talented musicians from the Philharmonic in Szczecin and the National Forum of Music in Wrocław. Paweł Maślanka is not only the founder of this orchestra but also its artistic director.