This year Leszek Możdzer returns to our Philharmonic with another project. It is our little tradition that we host this unique musician every season. We can reveal that we are really looking forward to every such meeting.

This year Leszek Możdzer returns to our Philharmonic with another project. It is our little tradition that we host this unique musician every season. We can reveal that we are really looking forward to every such meeting.

The Symphosphere Project is a combination of distant music worlds. The background for the improvisation performed by the American saxophonist Tia Fuller and Leszek Możdżer consists of electronics, orchestral music, improvisation and sounds from the edges of techno music. The project is a combination of these seemingly distant styles, and the participating artists guarantee the highest level of musical experience to the audience.

Tia Fuller is a saxophonist (soprano and alto) and flautist known among others from cooperation with the big star of R'n'B, Beyonce. She performed during the world tour entitled The Beyonce Experience, appeared in several major American television shows and played with the singer in the White House before President Barack Obama. She has music in her blood – as a daughter of jazz musicians (father Fred – double-bass player, mother Elthopia – singer). When she was a child childhood, she participated in rehearsals of the parents' ensemble and listened to their favourite artists: John Coltrane, Sarah Vaughn and Charlie Parker. Fuller is eagerly invited to collaboration by such stars as Geri Allen, Chaka Khan, Jill Scott, JAY Z, Pattie Labelle, Dionne Warwick, Erykah Badu and Aretha Franklin. She also played with the orchestra of the trumpeter, known from the 50th Jazz on the Oder, Jon Faddis. In the Down Beat critics poll, she won three times in the Rising Star category: as alto-saxophonist and flautist in 2013 and as a soprano-saxophonist in 2014.

Leszek Możdżer is one of the most outstanding Polish jazz musicians. He is a world-class pianist, a courageous explorer and original creator, distinguished by his own musical language. He has recorded CDs with the most outstanding Polish jazz musicians: Tomasz Stańko (Pożegnanie z Maria), Janusz Muniak (One And Four), Michał Urbaniak (Live In Holy City), Piotr Wojtasik (Lonely City and Quest with Billy Harper and Hope with Dave Liebman), Adam Pierończyk (Live In Sofia and 19-9-1999), Henryk Miśkiewicz (I do not want to sleep), Anna Maria Jopek (including Bosa, Barefoot, Upojenie, Farat). For years, he has also collaborated with Jan Kaczmarek, who lives in Los Angeles (recordings for 20th Century Fox and Mira Max), including the recording of the Oscar-winning music for the film Finding Neverland.

Santander Orchestra is a symphony orchestra consisting of the most talented musicians from all over Poland who develop their skills under the guidance of excellent conductors and tutors – both during rehearsals and concerts. This is an extraordinary opportunity to gain unique experiences and to test themselves during performances in front of a very large audience. Young artists perform during prestigious events, including the Ludwig van Beethoven Easter Festival as well as in the most modern concert halls in Poland.

Lars Danielsson, Swedish bassist, cellist, composer and arranger. He is well known and appreciated on the international jazz scene for his lyrical play and strong groove. Born in 1958, he is a musician with, particularly wide interests. He studied classical cello at the Gothenburg Conservatoire, only later did jazz appear in his life, to which he turned his interest. As a bass player, he has an exceptionally rounded sound that is as lyrical as it is powerful. In his career to date, he has collaborated with Randy and Michael Brecker, John Scofield, Jack DeJohnette, Mike Stern, Billy Hart, Charles Lloyd, Terri Lyne Carrington and Dave Kikoski. He was also a member of the Trilok Gurtu Group. In Poland, Lars Danielsson is mainly recognized for his cooperation with Leszek Możdżer. Before they together recorded the sensational albums "Pasodoble" (2007) and "Tarantella" (2008), together with Zohar Fresco they formed the Możdżer-Danielsson-Fresco trio labelled by Leszek as "Dream Team". They made the diamond album entitled "The Time" (2005) and the double-platinum "Between Us And The Light" (2006). Lars Danielsson saysabout cooperation with Możdżer, that this is his "life project".
Exhibition available during event:
Obrazy muzyki. Muzyka w obrazach | Bartek Barczyk
Unikatowe portrety wykonane przez Bartka Barczyka, to efekt spotkań z drugim człowiekiem, to zapis sytuacji, chwili, momentu. Najważniejszym jest wyzwolić migawkę w odpowiednim momencie. Czasem jest to możliwe dzięki bliższej relacji artysta-fotograf, czasem wystarczy spostrzegawczość i refleks, ale czasem jest to przypadek. Efektem jest wyjątkowy obraz, nad którym my możemy się na chwilę zatrzymać.
DETAILS
Leszek Możdżer | Symphosphere
13-10-2019 19:00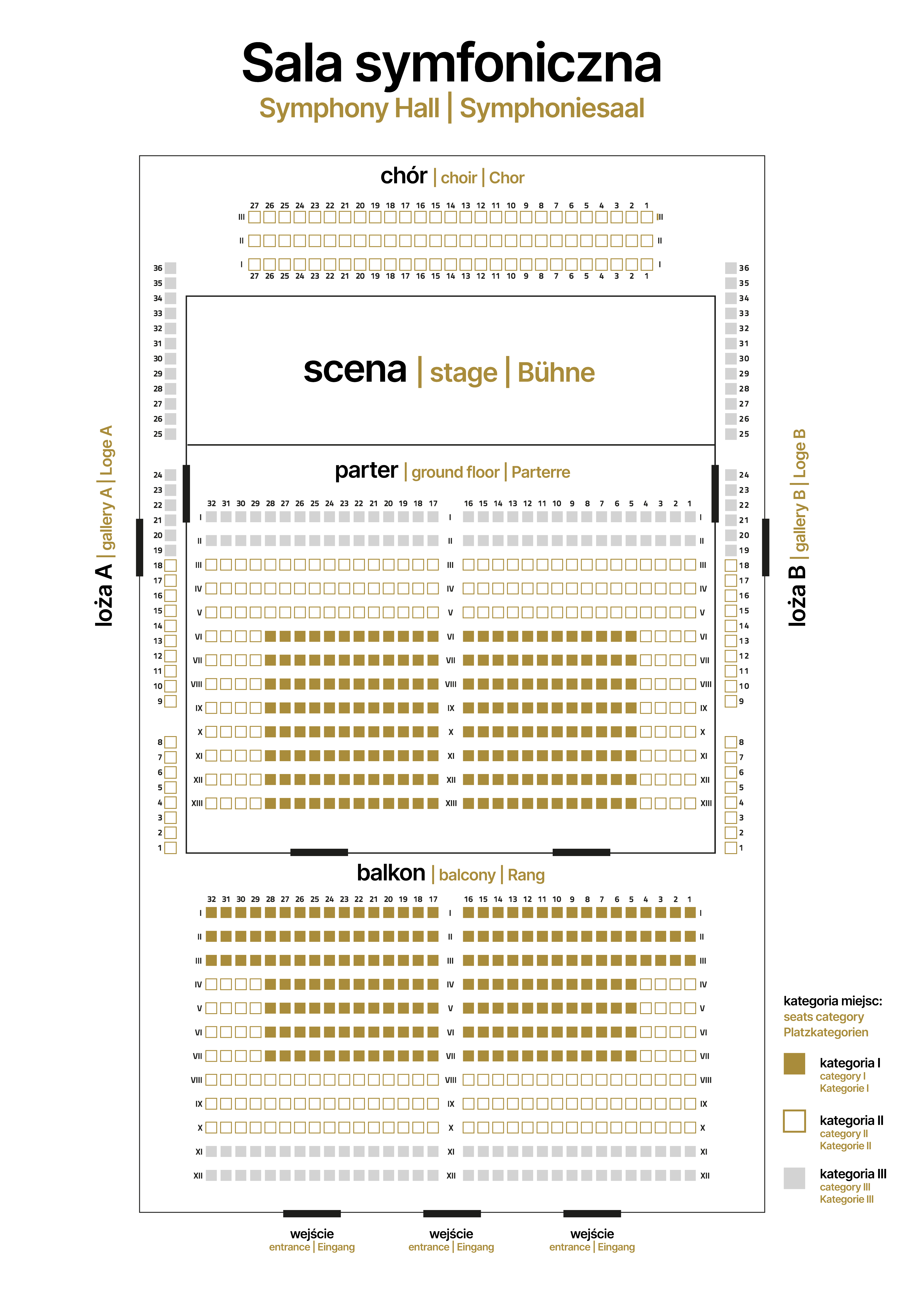 Symphony HallFilharmonia im. Mieczysława Karłowicza w Szczecinie
ul. Małopolska 48
70-515 Szczecin